The Complete set of 7 Issues (Winter 1987 -
- July 1988)
SEE ALSO


Sample covers (click for larger image 1500 x 19xx)
| | | |
| --- | --- | --- |
| | | |
| Vol. 1 No. 1 - WINTER 1987 | Vol. 1 No. 2 - SUMMER 1987 | Vol. 1 No. 3 - FALL 1987 |
| | | |
| Vol. 1 No. 4 - WINTER 1987 | Vol. 1 No. 5 - FEB-MAR 1988 | Vol. 2 No. 6 -APR/MAY 1988 |
| | | |
| Vol. 2 No. 7 - JUNE/JULY 1988 | Original Nintendo Fun Club Card | Dear Nintendo Fun Club Member... |

VOL. 1 NO. 1 - Winter 1987
VOL. 1 NO. 2 - Summer 1987
VOL. 1 NO. 3 - Fall 1987
VOL. 1 NO. 4 - Winter 1987
VOL. 1 NO. 5 - Feb.-Mar. 1988
VOL. 2 NO. 6 - April/May 1988
VOL. 2 NO. 7 - June/July 1988
More pictures: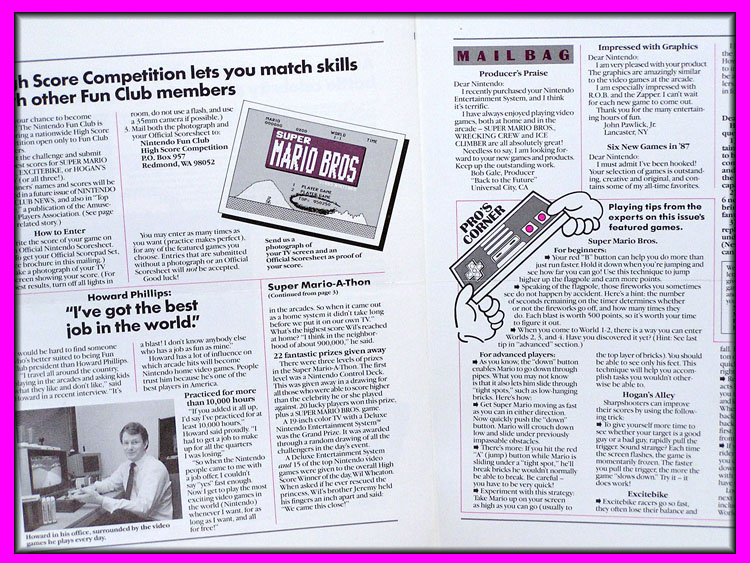 All mags are MINT in protective Polypropylene bags with acid-free cardboard backing
and have every insert, "wish list", and calendar that was originally included. I used to order multiples
of each so I could read a copy and keep the other in collector's shape.

Here is the original SUPER MARIO BROS. Nintendo sticker included with the very first Fun Club News issue!
Nintendo Fun Club News

DX


Colorized versions of the Nintendo Fun Club News (Here's come comparisons between the original and the "DX" version
Page 1
Page 4
Page 5
Click for larger resolution image