Portable Nintendo Famicom / NES* Gaming System
*with adapter (pictures shown below)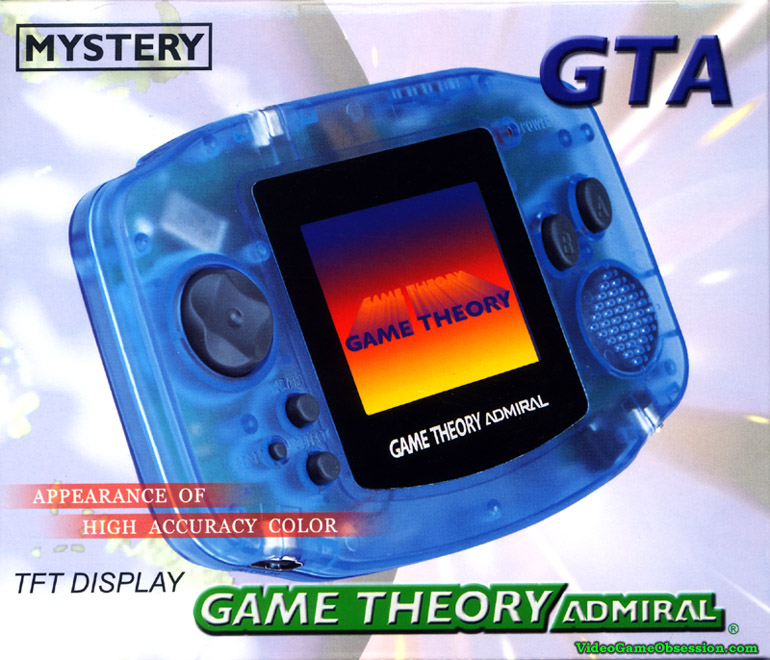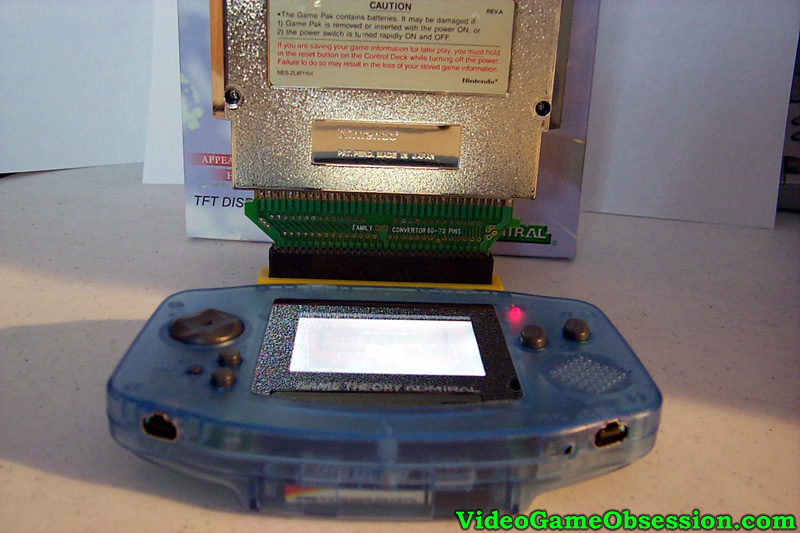 mini review:
~ OVERVIEW ~
This is a portable gaming system with a crisp BACKLIT TFT LCD display that is compatible with all known Famicom cartridges.
I have also been able to get it working
with my NES carts with help from a 72pin to 60pin adapter. Luckily the adapters I have do not
have the plastic casing around them which would not allow this. Games tested: Zelda, Super Mario Bros., Metroid, RC Pro-Am, Ice Hockey.
The system itself is almost identical to an original Nintendo Game Boy Advance with the GBA logo replaced with the catchy:
GAME THEORY ADMIRAL..yes I know it's a weird name :)
From Right to Left; a volume dial, cart slot, A/V out, power switch, &
contrast dial grace the top while the bottom houses a power adapter input (not released) and 2 controller ports (also not released).
The controller ports appear to be the same spec as the a/v port. Hopefully Mystery will release these promised add-ons in the near future.
~VIDEO QUALITY~
Although a tad smaller in size to the Game Axe, it has a much better quality LCD view thanks to the TFT technology.
It reminds me of the GBA with the Afterburner mod installed. It has some slight vertical line artifacting and a little noise.
Some of the fonts seemed a bit squashed, which I thought was due to the LCD screen compensating for the native video resolution, but it also appears when outputted through the A/V
Nothing that that would deter you from playing a nice round of Zelda.
It also has a nifty Contrast dial on the top Left to give you control over the picture.
~SOUND QUALITY~
Unfortunately the sound quality leaves something to be desired. Like most onboard speakers it's weak and distorted,
but the main problem lies in the fact that this does not reproduce PCM samples well at all. This won't affect many of the older titles however.
The other gripe I have in this department is the lack of headphone jack. It has the AV output,
but no headphone mini-jack. Looks like they borrowed some bad ideas from Nintendo
~OTHER STUFF...~
Battery life is very good (runs on 3 AA).
Product quality seems a bit on the cheap side. I don't think this would last long in the hands of rough players. The buttons feel flimsy unlike the original NES pad. Those were pretty much the best you could buy.
The system is a little strange looking with the Famicom cart sticking out of the add-on connector and even stranger looking when connected to a NES cart, but the NES cart will provide a nice sun blocking aid and will serve to shield you from funny stares when you are in public.
The A/V output is in an awkward place right beneath the cartridge adapter, but a welcome addition that I wish other companies would follow.
The manual is a twisted array of English. Luckily you don't need it.
Worth the $50 for fans wanting a true NES compatible.
RATING: B+ (not bad at all!) PRICE: $49.99 WHERE: search on Google WHY: Because I doubt anyone will attempt another portable 8-bit Nintendo


All information and images contained within this website are © Matthew Henzel & Video Game Obsession 1996-[present]
Please contact me if you wish to use anything.